Well, I thought things were getting better around here, but now Spencer and I are enjoying our turn at being sick. I guess I am over due as it has been a year or 2 since I was
really
sick, however, that thought doesn't comfort me much at the moment. Instead I'll just think back on a fun bright spot in an otherwise yucky week last week. As I mentioned in my last post, Ty missed his Valentines party at school. Not really a big deal, but he had been counting down the days til the party for some time. I felt bad that he was going to miss it, so we decided to have a party of our own on Friday. We started out by creating some surprise Valentines for dad and then driving them down to the the high school and decorating Marc's car while he worked. The boys were so excited to surprise their dad! Here are a few pictures of their amazing works of art: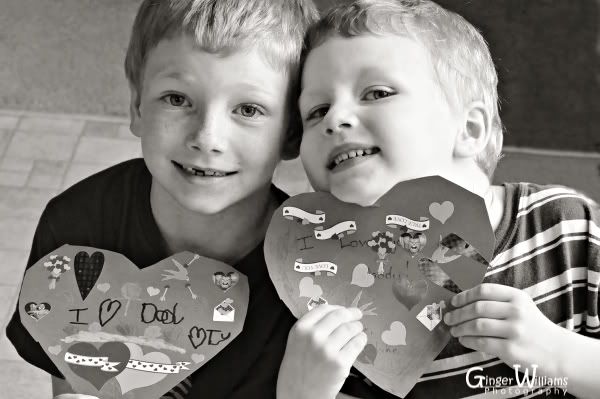 I was proud of Ty! He wrote the sentiment all by himself--zero help from me--and for Ty, that is quite an achievement!
Blake liked the stickers best:
Spencer didn't seem too think much of his. I coaxed him into holding his for a moment and scribbling a little, but that was the extent of his interest in the activity. He might have enjoyed decorating the car more, but he fell asleep on the way down to the school.
After surprising Daddy we went home and decorated the house. We had hearts and balloons everywhere for a few hours! Very fun! We topped the night off with a special "breakfast for dinner" complete with heart shaped pancakes with red syrup, pink milk, and a giant heart shaped chocolate chip cookie for dessert. I didn't take any photos of our special dinner, but here is a little something I whipped up earlier in the month, just in case any of you doubt my domestic skills ;)
It really was a fun day--even Ty seemed content despite the change in plans for him!